iCrowdNewswire Dec 25, 2020 3:01 PM ET
Traditionally, when office building maintenance crews are called-in for an emergency repair – a water main burst, or a malfunctioning electrical connection – they showed up and put giant wall signs or floor barriers to signal "This space is off-limits – Use another!". With new social distancing guidelines in place, using manually-erected barriers aren't an option.
Many workers follow flexi-timings, some work part-time, and others use hoteling arrangements. The most effective way of enforcing social distancing, while also maintaining the safety of the workspace, is by using workspace management software.
Facing the new workspace realities
In the new world, it's likely not possible for any workspace to have 100% occupancy without changing the way they work. Desks and workstations must be used in accordance with corporate and governmental protocols. And that means:
Scheduling the use of desks, in close proximity of one another, to conform to social distancing
Planning the use of workstations so there's adequate time for maintenance crews to sanitize and clean them regularly
Taking measures to ensure conference rooms aren't used to full capacity, and that occupancy of such spaces complies with the 6-feet-apart mandates
These are the new realities that many offices and commercial buildings face, as they draw-up back to work plans. However, in-office space hoteling environments, there are additional challenges confronting building managers and office administrators. How to manage co-mingling spaces, such as meeting rooms and common elements so all hoteling guests use the space safely and productively.
With meeting room scheduling software, these issues become less of a challenge.
Planning a safe return to work
Top-of-the-line workspace scheduling tools are built to support flexible work resumption strategies.
Employees may remotely book office space, and check and manage their bookings from home, to ensure they have a safe place to work when they arrive at the office
Room display touchscreens give visitors and hoteling guests the ability to perform contact-less bookings to limit the risk of transmitting or contracting illnesses"

Integrated Thermal detection features and Face Mask Detection functionality further enforces corporate and government-mandated COVID compliance in the workplace
The use of Bluetooth-enabled smart beacons helps users view the status of designated workspace, wirelessly over short distances, eliminating the need to interact with office administrators or reception staff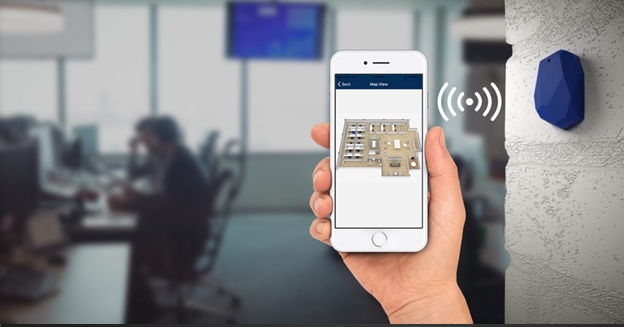 Workplace safety is the primary responsibility of both employers and employees. Where possible, the best way to implement a safe back-to-work strategy is by limiting the frequency and need for avoidable people-to-people contact at the worksite. And, where such contact is unavoidable – such as during a face-to-face meeting in a conference room then implementing appropriate technological solutions to manage associated risk is the best way to go.
Back-to-work safety technologies
The features outlined above are just some of the ways that state-of-the-art desk, workstation, and conference room scheduling software are helping to create workspaces in which it is safe to work. These software solutions, which seamlessly integrate into corporate IT systems, such as Microsoft Exchange and Active Directory, offer a safe and cost-effective alternative to using manual signs, hazard tape, spreadsheets and paper logbooks to guarantee a safe and productive workplace.
---