TV and radio presenter Amanda Holden marked World Book Day 2020 on March 5 dressed up in a stunning Tinkerbell costume. She shared her pictures with her 1.3 million followers on her Instagram and twitter account.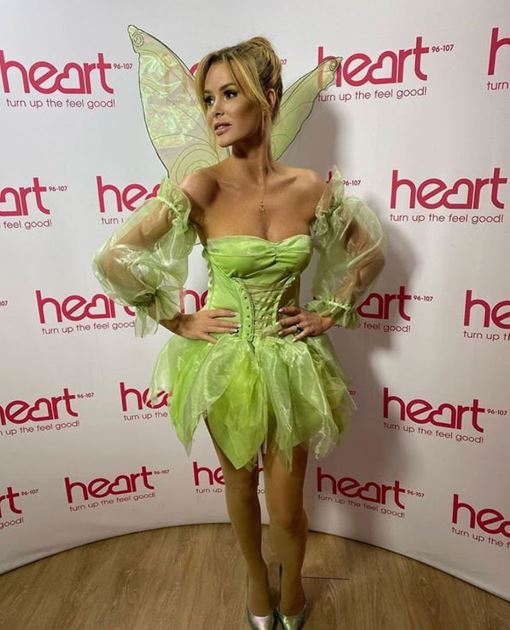 Amanda Holden looking gorgeous dressed up in a Tinkerbell Costume (Instagram/noholdenback)
Star of Britain's Got Talent, she co-hosts the national breakfast show on Heart radio with Jamie Theakston who also got in on the act. Amanda captioned her post: "It's a #Tinkerbell kinda day #worldbookday."
World Day is celebrated across the UK and Ireland to promote reading and the love of books. School children come to school dressed up in their favourite book character and many schools organise costume dress up contests for kids. Dressing up gallery on World day website showcase many ideas for kid dress up.
Famed for her youthful looks, the Radio host was rocking in a lime green strapless lace-up corset with a sheer skirt made of layers of petal-shaped fabric, and sheer sleeves. Fairy shimmering wings completed her outfit with a high bun hair style in keeping with the Tinkerbell Disney look.
She also posted a video of herself skipping down the hallway of Heart station as Tinkerbell her favourite fictional character, before nearly tripping in her high heels.
Her Instagram was flooded with comments from the "prettiest loveliest Tinkerbell' to 'Wow. Most beautiful Tinkerbell ever.' a follower posted. 'You are the Prettiest Fairy the World,'.
Her co-host, Jamie Theakston, joined the act dressed as Captain Hook with a velvet burgundy jacket, golden vest, feather hat over a curly black wig, complete with a hook off course.
Tinkerbell, a popular Disney Character, is known for being a sassy fairy, feisty and hot tempered, despite looking fragile and cute. She also enjoyed going on adventure with Peter pan and was a very loyal friend.
Rochelle Humes who also host a weekly show on Heart shared pictures of her children dressed up in costume as the popular character Matilda and the animated bunny Bing.
Amanda is known for her glamorous Instagram photo shoot and for dressing up. Last October they dressed up in a Morticia and Lurch costumes from the Addams Family, all creepy, mysterious & spooky.

Jamie Theakston with Amanda Holden dressed up in a Captain Hook and Tinkerbell Costume (Picture: Heart FM)