Oct 12, 2020 3:30 PM ET
iCrowd Newswire – Oct 12, 2020
Are you in search of an innovative, reliable and advanced cryptocurrency exchange? Cryptocurrencies are in high demand these days because of their huge potential. The market is growing rapidly and cryptocurrencies are expected to be adopted all over the world. However, the market is still unregulated for the most part due to which people are looking for safe and trustworthy options. While there are numerous exchanges that are offering their services, not all are created equal. Amongst the numerous options you will find in the market, there is also Currency.com, but it stands out because it is not just a regular cryptocurrency exchange.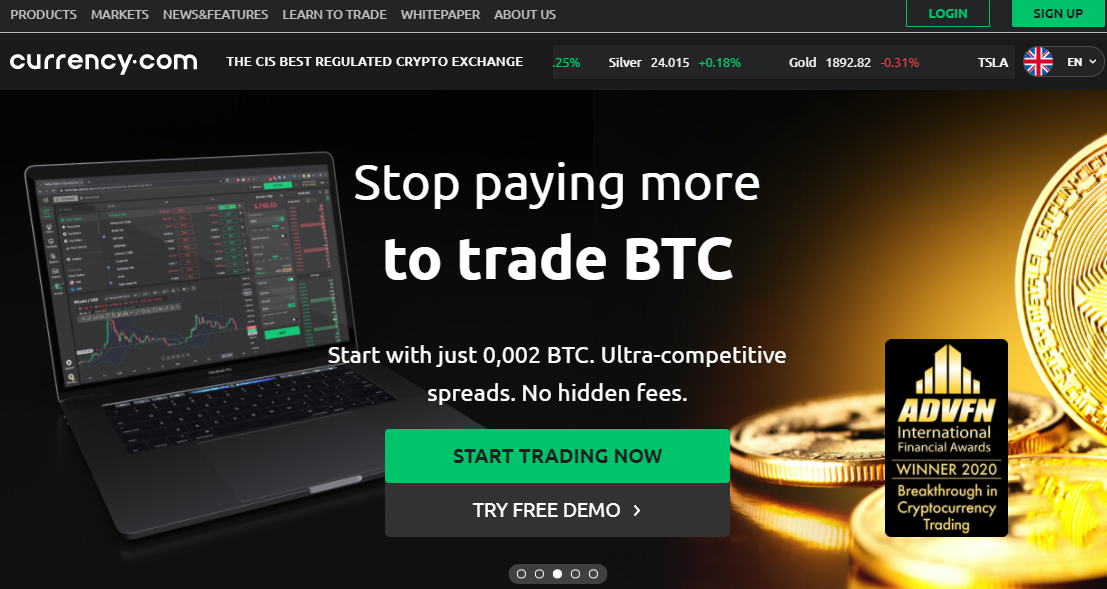 Launched in 2019, Currency.com is an innovative and fresh tokenized cryptocurrency exchange that allows you to directly trade in crypto and make profits in crypto as well. This means that you don't have to convert your crypto into fiat money for using the exchange's services. Located in Belarus, it is a regulated exchange that has made the troublesome and complex process of crypto trading easy and quick for its users. However, the most notable aspect of this exchange is that it doesn't just let you trade cryptocurrency; it has also added a range of tokenized assets from other financial markets, which has made it an attractive option.
Also Read: Another Celebrity Joins The Crypto Club When MurdaBeatz Tells He Bought Bitcoin
Let's take a close look at this exchange to determine why it is a good choice for you when you are searching for a crypto exchange:
First and foremost, this innovative exchange allows you to trade a wide array of assets. Currently, it is offering more than 1,300 tokenized assets on its platform and is planning to increase this number to 10,000. Tokenized assets refers to assets that are converted into blockchain tokens and can offer a lot of benefits. Currency.com allows its clients to trade tokenized indices like S&P500, EU50 and FTSE100, tokenized shares like Amazon, Apple, Coca-Cola, Tesla, Google and Netflix, and tokenized commodities, such as gold, silver, platinum and natural gas, famous crypto pairs like Bitcoin (BTC), Litecoin (LTC) and Ethereum (ETH). You can also trade tokenized government bonds on their platform.
The goal of Currency.com is to bridge the gap between the financial world and cryptocurrency market and in order to do so, they have developed their own proprietary web trading platform. It is an innovative platform that allows people to trade multiple assets and ensures liquidity. You can benefit from reliable and fast execution, along with top-notch risk management tools, such as guaranteed stop losses, which can protect your bottom line. The platform also comes with negative balance protection, trading indicators, charting tools and real-time prices. It is simple to use and can be navigated easily, so newbies will not have a problem either.
Other than the web platform, Currency.com has also developed mobile apps for Android and iOS devices to make trading easy for their clients. The app has been designed to give people the option of making their crypto purchases on the go and ensures a smooth experience. You can transfer your crypto without any hassle, buy tokens with fiat currency at competitive prices and store your crypto securely, even on the move.
A quality feature that Currency.com is offering to its clients is a demo account. There are lots of people who are new to the crypto world and need to get acquainted with how the market works. This demo account provides them the perfect opportunity to do so. They can get in the necessary practice by using virtual currency, which means the stakes are not real. They can test their strategies, see how they would turn out and become familiar with the market.
Currency.com also has KYC and AML security policies in place for verification of identity and residence of all those who sign up on their platform. This can also reduce the chances of a cyber breach and can provide a secure environment.
Conclusion
After reading this short but to the point Currency.com review I hope that you have understood that trading with this regulated and highly secure tokenized assets exchange is a sure and fast way to get a foothold in the cryptocurrency trading markets. With their tokenized and secure apps and helpful customer support this trading platform is slowly but surely becoming the go-to venue for crypto traders all over the globe.
---