Oct 24, 2020 3:37 AM ET
iCrowd Newswire – Oct 24, 2020
Choosing a suitable website hosting server is the most challenging job for any website operator or blogger. What makes it even more difficult is the fact there are a myriad of such web hosting servers, each with a variety of features, and selecting the best one can seem intimidating.
While choosing a web hosting server, a website operator must look at two basic facts of any server- it's pricing, and the features it offers. If it's cost-efficient and the features suit your requirements, then it's the right hosting server for you.
In this review, we discuss one of the most popular web hosting servers on the Internet, JustHost. We consider its pros, cons, its pricing policy, and analyze if the provider is suitable for website operators.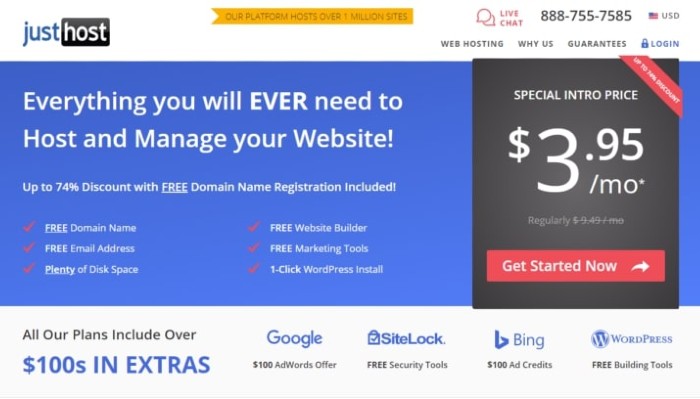 About JustHost
JustHost is a web hosting provider that offers a variety of features at affordable prices. It's one of the most reliable hosting platforms on the Internet. The hosting platform is owned and operated by Endurance International Group, its parent company. As a website operator, the goal is always to select the most cost-efficient and suitable web hosting platform. JustHost provides exactly the features any aspirational and professional blogger needs. The platform is the most ideal hosting server for small and medium-scale businesses.
In the following sections, we discover its features, benefits, and drawbacks. We'll then try and analyze if it suits your needs.
Hosting of Small-Scale and Medium-Scale Businesses
JustHost is an exclusive web hosting provider that offers the best hosting solutions at affordable prices for small and medium-scale businesses. The features offered by JustHost make hosting easy for everyone and any aspirational blogger can start operating their website. Most operators devote hours to understanding the features offered by a website host. But with JustHost, you don't need to spend hours on any course that explains the features. It makes hosting so simple that you can start posting content immediately.
The website host provides one-click downloads, free domain names, free website builder, and simple setups. Though there are bigger website hosting platforms that seem to provide better hosting solutions, JustHost focuses more on budget hosting, which is ideal for small business operators.
Now, given below are some of the technical features of the hosting provider. Its infrastructural and technical features help the hosting platform reduce power outages and allow efficient, reliable, and consistent hosting.
Diesel-generated backup power
Linux operating server
Active system monitoring 24×7
Dual Quad-Core Processor
Now, after listing the technical specifications of JustHost, we'll analyze its benefits.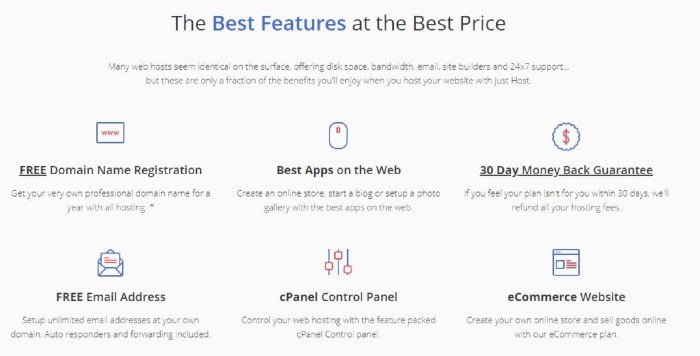 Pros of JustHost
Free Domain Name
Unlike other hosting platforms that charge for domain names, with Justhost, you get a domain name for free when you subscribe to any of its packages.
Immediate Server Activation
JustHost offers instant activation of your website server. So, once you've purchased and subscribed to one of its plans and chosen a domain name, your server gets activated immediately. Several web hosting servers require authentication of your identity before they approve the activation of your server. It turns out to be a slow process with a few phone calls and email verifications that can prove to be frustrating.
If you've subscribed to the dedicated hosting plan, premium plan, or VPS plan, your server gets provisioned instantly.
Active Customer Service
The overall customer support experience of JustHost is quite decent. The customer support team of the company is active all day and will connect with you in 3-5 minutes. Unlike other hosts that have bots operating their customer service team, JustHost has assigned representatives that will connect with you and try their best to solve your problems.
If access to decent, efficient, and 24×7 customer support is one of your requirements as a web operator, then JustHost might be the most suitable host for you.
==> Special Discount: Order Today With Best Price And Special Offers <==
Above-Average Uptime
Listed below is the average uptime of JustHost for the last 12 months-
October 2020: 100%
September 2020: 100%
August 2020: 100%
July 2020: 100%
June 2020: 100%
May 2020: 99.86%
April 2020: 100%
March 2020: 100%
February 2020: 100%
January 2020: 100%
December 2019: 100%
November 2019: 100%
Uptime is one of the essential indicators of a reliable and consistent website host. Most ingenious website operators know that the average uptime of a website hosting platform gives a fair indication of its reliability. As shown in the table above, except for one month (i.e., May 2020), the average uptime of JustHost comes to around 99.98%, which is above the sector's average of 99.93%. You can also see that the uptime for 11 months of the 12 is 100%, so you can expect the server to be consistent, secure, and dependable.
Script Library for Free
With a subscription to any of the JustHost packages, you obtain access to an entire script library for free. WordPress, phpBB, osCommerce, and Joomla are some of the scripts available and Similar Scripts can assist you to add them to your website.
A free script library is certainly a huge boost to your web server as you can download and install any of the scripts and use them without being adroit at coding.
Decent Security Features
A website operator or a blogger knows that the security of the server is most important when it comes to hosting a website. Everyone knows how insecure hosting can be and if your website host doesn't offer you the necessary security features, then there's a high risk of your website getting hacked.
In the security aspect, JustHost offers multiple security options that help you protect and secure your website against malicious hackers. It uses SSL (Secure Sockets Layer), SSD (Solid-state drive), secure shell (SSH), and other advanced security options to encrypt your website under a safe network.
It also uses SiteLock that includes-
Dashboard reports
Alerts and email updates
Daily safety scan- antivirus scanning
Security maintenance
Dynamic security badge
With JustHost, you receive instant email notifications if the server detects a threat. Early detection helps you deal with harmful content before your website gets blacklisted. You can also contact the customer support of JustHost if you're unable to remove malicious content.
Improved Refresh Rate
If you analyze the 12-month average loading rate or refresh rate of JustHost, it comes out to be more than the industry average. Considering the average, the refresh rate of JustHost is 731ms, which is quite fast.
Speed is one aspect that ensures customer satisfaction. So, if your website takes a lot of time to load and refresh, then people might want to leave your website. With an improved refresh rate of JustHost, your customers can enjoy a better experience and you can increase your traffic.
Listed below is the 12-month average refresh rate of JustHost-
January 2020: 1143ms
December 2019: 982ms
November 2019: 899ms
October 2019: 2387ms
September 2019: 552ms
August 2019: 491ms
July 2019: 510ms
June 2019: 423ms
May 2019: 540ms
April 2019: 803ms
March 2019: 711ms
February 2019: 616ms
(HUGE SAVINGS TODAY) Click Here to Get JustHost Hosting For The Lowest Price Right Now
Cons of JustHost
3-Year Upfront Payment
Even though JustHost keeps its subscription packages competitive, starting from $3.95 only, one aspect to consider is that you've to pay for three years upfront. If you want to purchase the one-year plan, then the price goes up to $5.95 per month.
Weekly Backups Unguaranteed
JustHost supports weekly backups. But some of the time, the website host fails to backup your data automatically. It's the same with other website hosts as well. So, it's better that you initiate the backup of your content manually.
Pricing of JustHost and Hosting Facts
Basic Plan
The package costs $3.95 per month. You've to pay for the package for 3 years upfront. It supports a website and you get a domain name for free. You get 5 email accounts with 100MB storage per account, 50GB disk storage, and more.
Plus Plan
It costs $5.95 per month and supports 100 email accounts. You get 10 website servers too and 150GB disk space. You also get 50 free subdomain names.
Prime Plan
You've to pay $6.95 each month for the Prime plan. You get unlimited websites with the plan. There are unlimited subdomains and email accounts. You get a dedicated IP, SSL certificate, and backup protection.
You can pay using multiple methods such as credit cards, debit cards, and PayPal.
Money-Back Guarantee and Refund Policy
JustHost offers you a 30-day refund guarantee. So, if you don't find the features beneficial, you can contact the company's customer support, and get a refund. But when you claim a refund, you lose your domain name. If you want to buy the domain name, then you've to pay an additional $15.99.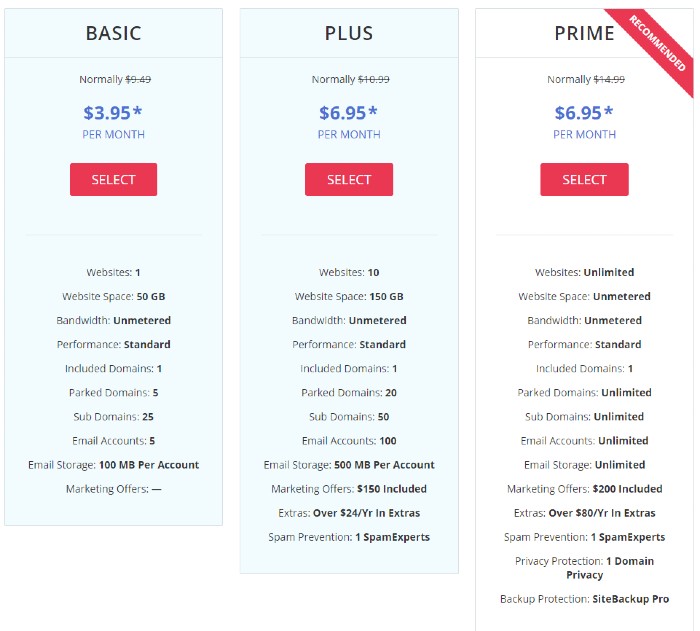 Conclusion
If you're seriously aspirational about your website, you must go for an efficient web host. JustHost is developed for content creators who want to be the best in the business. After analyzing its features, one can say that JustHost is the most reliable and consistent web host on the Internet. The plans it offers are the cheapest in the industry. But they don't compromise on quality. You get all the features necessary to host a top-class website.
---