Following a months-long closed beta period, Nintendo on Monday announced a long-awaited multiplayer mode will be added to popular iOS racing game Mario Kart Tour on Sunday.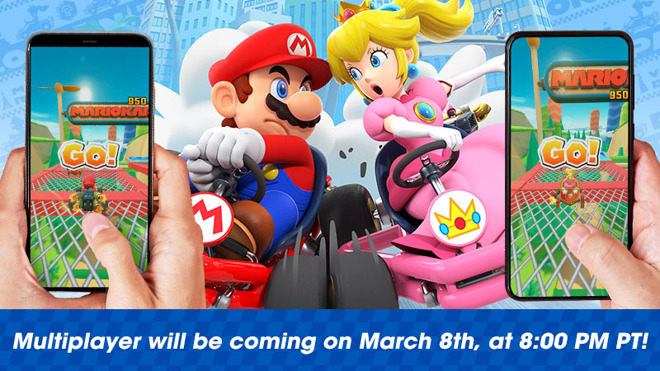 According to a tweet posted to Nintendo's official Mario Kart Tour account, the upcoming mode supports up to eight simultaneous players including "in-game friends, nearby, or around the world."
Nintendo breaks down three multiplayer game options in a separate tweet. Players can challenge friends or other nearby players to games with custom rules. A second option, called "Standard Races," pits players against other other gamers around the world in races with two sets of rules that change daily. Finally, "Gold Races" are restricted to Mario Kart Tour Gold Pass subscribers and allow users to compete in races with four sets of rules that change daily. Rank, or "grades," are applied to Standard and Gold Races based on performance.
Testing of the multiplayer system commenced in a closed beta round in December and was followed by public testing in January.
Multiplayer competition has been a defining feature of the Mario Kart franchise since its launch on the Super Nintendo Entertainment System in 1992 and its absence on mobile was viewed by some as a hindrance to adoption. Currently, players are limited to racing against AI bots, with in-game incentives like character unlocks and parts pushing users to continue play.
The feature is due to go live on March 8 at 8 p.m. Pacific.
Mario Kart Tour launched in September after multiple delays, with first week performance estimated at 90 million downloads. Android accounted for some 53.5 million downloads, while Apple's iOS notched 36.5 million downloads, according to Sensor Tower.