Enlow & Associates CEO Mark Enlow enters his 41st year as a leader in the competitive world of recruiting.
For over 40 years, Mark Enlow has excelled in his work as a top-level recruitment specialist. Focused on what's known as executive search, Enlow now owns and runs one of California's most successful firms in the field. Elsewhere, he's also firmly committed to giving back to the community, having served on the board of the Oscar de la Hoya Foundation and continuing to support a wealth of other good causes.
Mark Enlow started out in the competitive world of recruiting at the age of just 24. For years, Enlow helped build executive teams for top global companies, including many on the Fortune 500 list. The industry leader would later go on to establish Enlow & Associates. Today, Enlow & Associates is one of the region's top executive search firms.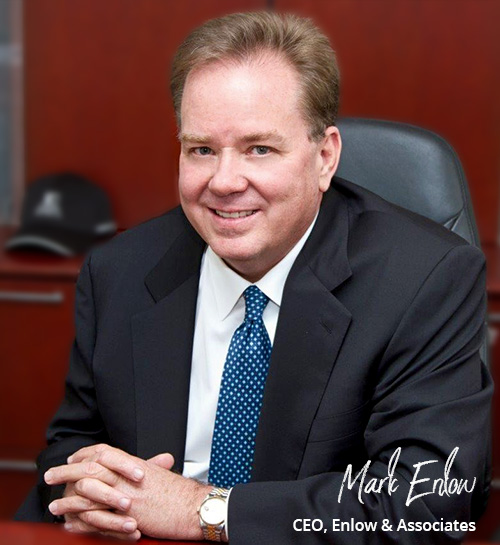 As its CEO, Enlow is, he says, unlike many others at his level in the industry, plenty of whom take a back seat after finding success and growing their own teams. "I'm active in all aspects of my clients' executive recruiting needs," he explains, speaking from his office in Santa Rosa, California.
Together, Enlow, his team, and their clients work as strategic partners to recruit exceptional executives for the most critical roles. The firm promises value beyond the traditional limits of so-called retained executive search. Enlow & Associates does so by providing its clients with industry insights, strategic introductions, and superior retention expertise based on best practices.
Many of these best practices have been refined by Enlow & Associates CEO Mark during his 40 years or more in the business. Throughout his four decades of top-level work, Mark Enlow is proud to have developed what he calls a hands-on approach to identifying talent on a personal level. The specialist has also established himself as an authority on leadership and in mentoring recruiters.
Mark Enlow praised for charitable efforts
A nationally recognized leader within recruitment, Mark Enlow is ideally positioned to support various charitable foundations, nonprofit organizations, and other good causes. "I firmly believe in giving back to the community," reveals Enlow, who has served on the board of the Oscar de la Hoya Foundation.
The Enlow & Associates CEO has also been pivotal in forming the Enlow Family Endowment for Choate Rosemary Hall. Enlow's other commitments to the community and those in need include working with the Tony Robbins Foundation and supporting the National Kidney Foundation.
He's also an avid supporter of a number of schools and universities. Both locally and further afield, these include Del Monte Forest's prestigious Stevenson School and New York-based St. Lawrence University.
Outside of his various charitable efforts and his work in recruitment, Mark Enlow enjoys spending time with his three children, attending church, and staying in shape. "My core values are faith, family, fitness, and finances," says Enlow. "I work to make a positive impact in the world to help those who can't help themselves," he adds, wrapping up, "and treasure relationships both in business and with family."