Mark Enlow of Enlow & Associates reflects on 41 years of recruiting experience.
SANTA ROSA, CA / APRIL 16, 2021 / The success of a business is based on the people it employs. That's the theory behind the work of Enlow & Associates. Headed by Mark Enlow, Enlow & Associates takes pride in advising clients on recruitment strategies, so they can employ people who will help the business succeed. Enlow recently reflected on his 41 years of experience in the recruiting industry.
"Recruiting is more complex than many think," Mark said. "It involves complex processes of attracting the best candidates, selecting them, and onboarding them for a flawless transition."
Mark Enlow has placed more than 508 executives at General Electric and has helped build successful teams for countless Fortune 500 companies. He and the entire Enlow & Associates team provide value that is beyond what typical recruiting companies can offer. Enlow began his career at the age of 24 when he was hired by a major global retained executives search firm. What began as a position in research resulted in him becoming an executive recruiter.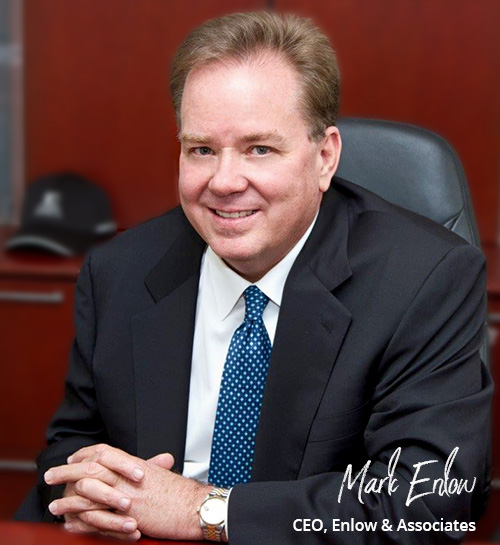 "I placed more than 226 candidates over the following 15 years," Mark Enlow said. "I became a proven partner. That's when I decided to start Enlow & Associates."
Mark explained that he and his partners offer a shared definition of success that is respected and understood throughout numerous industries. This is much of what makes it possible for him to place executive leaders.
"In the early 1990s, we were faced with a major challenge," Mark Enlow said. "We were asked to help rebuild Allied Signal. This was an automotive, aerospace, and engineering company that merged with Honeywell for $15 billion several years later, in 1999."
Enlow added that he was able to place more than 508 candidates at all levels for GE, a $250 billion company with more than 305,000 employees around the world. No recruiting task is too large for the Enlow & Associates team.
"Recruiting is an incredibly fulfilling occupation, as the success you help create is always visible," Mark Enlow said. "The goal is to lead our clients to success, and we're experts in doing just that."
Enlow finished by stating that his career in recruiting is far from over. He and his team are eager to continue leading businesses and individual employees to success. Recruiters are paid to enrich the lives of others, and that's what Mark Enlow finds so rewarding about his 41 years in the business.