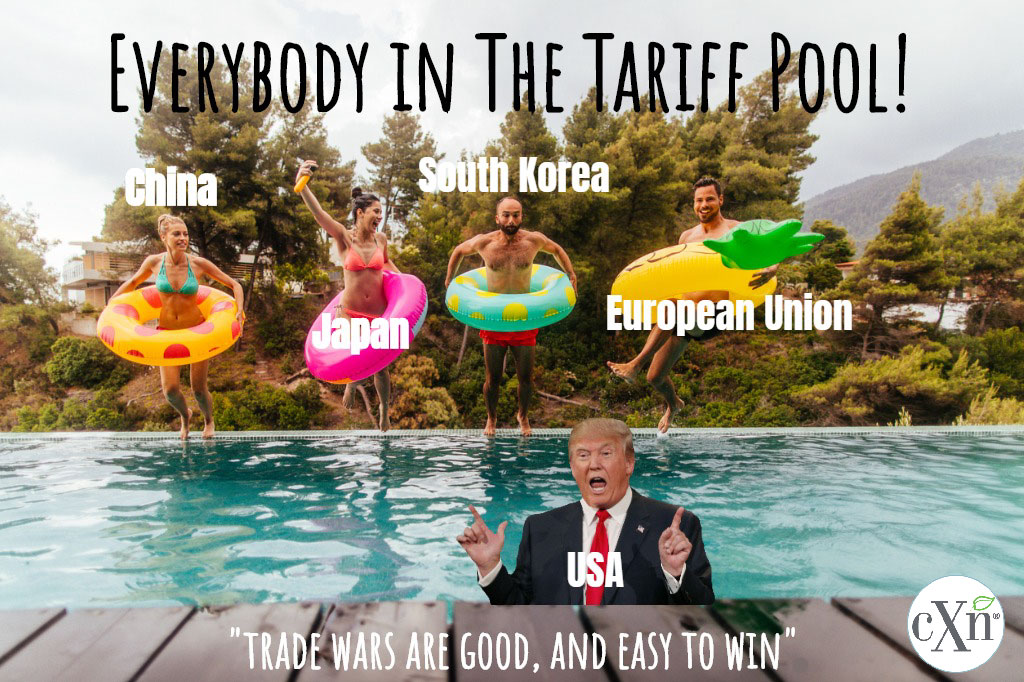 Since our last tariff update in September, we've received a number of price increase notifications covering the gamut of electrical, lighting and tool manufacturers – many directly attributable to the "List 4B" tariffs effective December 15th. These price increases have effective dates beginning in October, and span through January 2020.
In 2018, Trump tweeted: "trade wars are good, and easy to win". With neither side overly optimistic, trade talks between China and the US resume again this week. So while we wait to see how easy it is to win this trade war, let's catch up on other "easy to win" trade wars:
Planes, Trains and Single Malt Whiskeys
After 15 years of litigation, last month the WTO gave the Trump Administration the go-ahead to impose tariffs on imports coming into the US from the European Union – this in response for illegally subsidizing Airbus. These tariffs are planned to commence October 18th and impact as much as $7.5 billion of European exports annually.
The list of imports released from the United States with a planned 25% tax would make any gourmet aficionado's mouth water: Parmesan, Pecorino, Edam and Gouda cheeses, mussels, clams, coffee, single malt whiskeys, French wine, and other assorted delicacies. But only a 10% tax is planned for airplanes? Hmmm… Included in this list are also assorted German-made hand tools; knives, screwdrivers, pliers and more. There are also some heavy-duty mobile equipment products set to be tariffed including: self-propelled backhoes, shovels, self-propelled machinery with a 360 degree revolving superstructure and various electromechanical tools. And as expected, the EU has retaliatory measures ready to implement should the US carry out these October 18th tariffs.
What's more, the EU is expecting the WTO to rule in it's favor in a similar complaint involving U.S. subsidies for Boeing.
A Rumble in the Asia-Pacific Jungle
In a bit of good news, the US inked a trade deal with Japan last month – potentially restoring around $13 billion worth of US agricultural products exports (but sadly, too late and too little to make up for our losses with China).
Japan has also been engaged in a bitter trade dispute with South Korea. Both countries have cut each other from export white lists as their trade war reignited World War II era animosities. Japan claims South Korea was leaking sensitive information to North Korea – South Korea is boycotting Japanese beer and clothing, and underlining the bitter tone between these two nations, South Korean President Moon Jae-in?s said in an August cabinet meeting "We will never again lose to Japan." This is less about trade but more about nationalism, honor, and history. On a micro-level, what's at stake here are supply chain disruptions of smart phones, memory chips, OLED displays and associated products.
In 2018, the global DRAM (dynamic random access memory) market alone was worth about $99.65 billion and three companies — Samsung Electronics, SK Hynix of South Korea and Micron Technology of the U.S. still control around 95% of this market – and while this bitter trade dispute wages on, China has been ramping up their own DRAM production with plans of asserting their dominance over this market. Though both Japan and South Korea are US allies, the US has decided for whatever reason not to intervene leaving the door open for China to play mediator – and possibly broker a trilateral trade deal. Such a successful outcome may also serve China's designs of military expansion in the Pacific. Everybody in the Tariff Pool – "trade wars are good, and easy to win"!
You May Have Better Luck Balancing Spinning Plates
Daniel Dobski
Director of Marketing
Connexion