Poshmark Pro Tools is a desktop-based Poshmark bot that automates your daily activities on the marketplace to boost sales. These activities include; sharing, following, and unfollowing closets and many such community guided tasks on the platform allowing you to free up space to focus on business-critical tasks.
Following our inception in 2019, we've gathered over 2000 users and are expected to increase numbers in 2020 as well. Our users have responded positively to Poshmark Pro Tools software remarking how it's helped them boost closet sales and free up time from an otherwise monotonous schedule of having to constantly engage to stay on top.
Having saved up time from repetitive activities, users were able to engage with buyers on business-critical tasks instead. They were able to respond to queries from targeted audiences, negotiate prices, and make concrete sales.
Poshmark works based on a community schematic where poshers can share items from their closets in parties or home-pages to engage with other poshers. The more active you appear on the platform, the more you boost your chances of being prominent as a reliable reseller.
Poshmark Pro Tools is a Poshmark bot that has given users effective results. Users can automate image sharing from their closet that comes up in their follower's feed. It creates engagement with those followers and generates likes on your posts resulting in increased sales and having your items appear higher up in searches.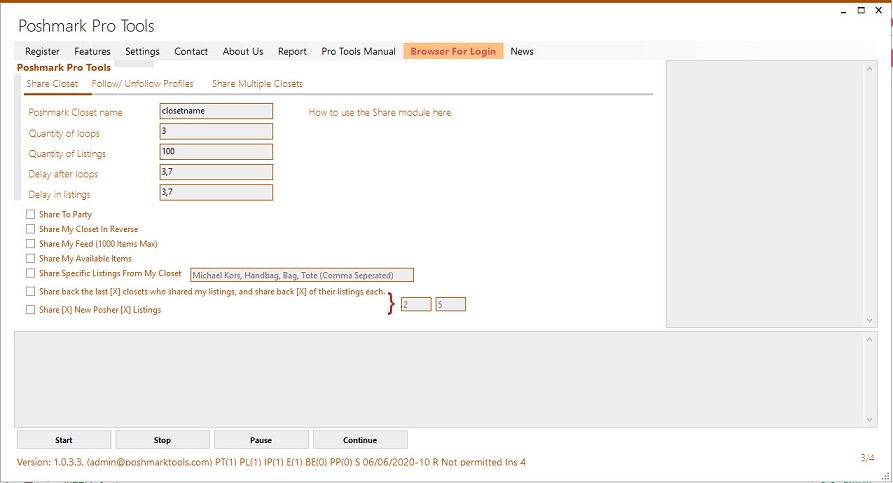 Users have responded positively to their experience because the Poshmark Pro Tools Poshmark bot in effect did their engagement work for them. Pioneer poshers who once had to spend months to get a response were flooded with buyer messages on their posts within days!
Active users on Poshmark recognize just how labor-intensive and time-consuming it can get having to constantly work towards keeping sales up. Even pioneer users on the website have often seen features to be somewhat complicated to work around.
After using our software, those users generated more income with a higher number of sales and more effective marketing. Users reported that they were able to gather more and more likes on their posts that allowed items from their closet to sell out faster than before.
Users who operated with the Poshmark Leads module were also able to target audiences and curate engagement relevant to their closet. Users selling a particular category of clothing and apparel were automatically engaged with buyers wanting those items. Not only has this been a result-driven software for users to increase sales, but it also allowed them to ward off scammers and inconsistent buyers.
Poshmark Pro Tools allows undecided users a three-day free trial. The trial allows users to experience unremarkable features that open up space from their former hectic schedule of having to share posts, follow, and unfollow users. Where after those former undecided users download our software!
The software is composed of separate modules that tackle revenue promoting features. The software itself features auto self-shares, auto party shares, auto community shares, auto follows and unfollows, auto keyword sharing, auto multi-closet sharing, reverse closet sharing, auto share-back, auto-sharing of new listings and a random delay between sharing.
For more information, please visit https://poshmarktools.com/
Work Smarter. Not Manually.
ABOUT US:
Poshmark Pro tools were created in 2019 by Poshmark users to make the site easier to operate and manage. It's a highly effective software with proven results to increase sales, generate more revenue, and elevate your status from an average reseller to a pro. Currently, we have over 2000 users for our software and are only going higher and higher. Poshmark Pro Tools is a Poshmark bot compatible with Windows software and is currently supported on Windows Vista/7/8/8.1/10 – 32 and 64 bit.
After availing our three-day free trial, you will be signed up for Poshmark Pro Tools paid software services. We offer four services:
Monthly Package ($14.99/month)
Cool Package ($34.99/3 months)
Super Awesome Package ($64.99/6 months), and
Amazingly Awesome Package ($99.99/year)