A decade or so ago, T-shirts were something you wore as casual wear. Not so anymore! Today, that humble Tee has gone mainstream. In fact, in some industries, personalized tshirts are what counts as 50% of the uniform code. And there lies a brand promotion opportunity for savvy marketers. Designing and printing your own marketing message, and showcasing your brand through custom t shirts, can do more for your image than you'd imagine.
Tees – Representing More than Coffee & Tea
When fast food giant McDonalds unveiled their newest corporate uniforms for their crew and management staff – which also features personalized t shirts, they had "fashion and function" on their minds. Clearly, the style and design of the unis had to mesh with the function that counter staff and associates performed. But the design and messaging in the tshirts went beyond coffee, tea and burgers!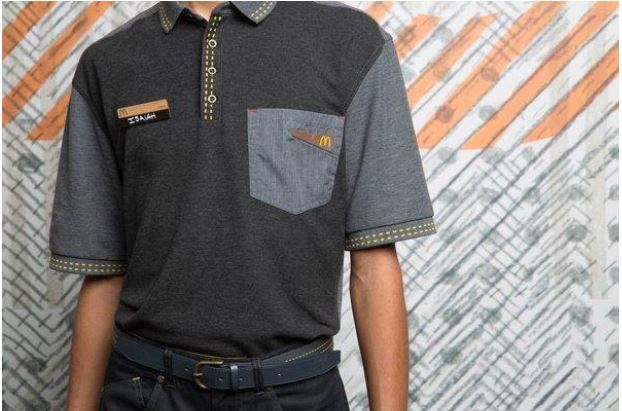 In the words of this master of corporate branding, the company also realized that, when it comes to showcasing their brand through the uniforms staff wore "Employees are the face of any brand…".  And, because T shirts make up so much of the visible uniforms, what better way to project that brand than use a t-shirt to do the messaging? It's a master stroke from a genius in branding.
Even proudly-Canadian corporations, like Canadian Tire, and public institutions, like Canada Post, use t-shirt branding to project pride in the services they offer to Canadians across the country. A simple logo on the side of a t shirt sleeve, or on the front breast pocket, is all it takes to conveys a powerful brand image. 
But t shirt branding isn't restricted to large blue-chip corporate giants anymore. Individuals, small business owners, sports teams, gyms, spas, dental offices and not-for-profit businesses all have access to the online tools and services that make personalized tshirts a powerful branding tool. 
Branding with Tees made easy
Today, it's amazing what T shirts can do for your brand – especially if the tees are themselves high-quality branded products. However, today's apparel printing processes mean you can use any piece of clothing – from tote bags and jogging pants, and from hoodies and t-shirts – as brand promo mediums. And there's more good news for anyone looking to use apparel, be it a full uniforms or just tops, for branding and imaging purposes.
Just a few years ago, delivering brand-based messaging with personalized clothing was a challenge. You'd have to coordinate your branding campaign through multiple suppliers – t-shirt manufacturer, graphics designer, printer…and the process would take weeks, if not more. Not anymore, though! 
Marketing specialists, looking to promote their brands using personalized clothing, were looking for simplicity and expediency Newer technology and changing business models have transformed how marketers portray their brands using custom designs on apparel.
And that's exactly how PromoPays works – by offering online designing and printing of custom t shirts in Oakville, Ontario. The entire process takes just 3 steps: You select a product. Create your design. Submit your order for printing. You're done. Branding with t shirts, hoodies, tank tops and more, has never been easier!