What is 'The Intersection'?
Placing 'The Intersection', such a familiar for the urban eye installation into the foreign landscape of the Playa, we aim to conjure a feeling of a mirage in the desert, as two realities overlap each other and travelling between them is made possible. The most usual thing – the intersection – might be the last object you would expect to see at Burning man. It contradicts with other art objects, enhancing the feeling of you being in another reality.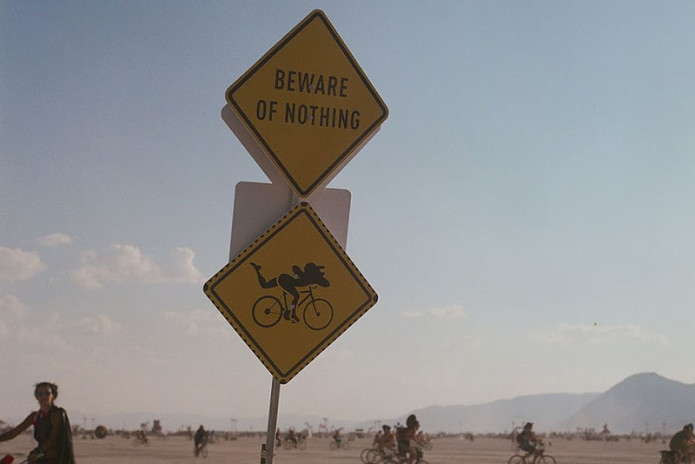 But this particular intersection is also much more than a mundane street a person knows from their everyday life. Upon closer inspection, the intersection seems to have appeared from a parallel universe. The universe where Burning Man expanded beyond the trash fence, found a way into the urban realm, and modified it. In this Burning Man modified world, unicorns can be found side by side with robots and the city interacts with its inhabitants in a casual way. In this world, the green man on pedestrian crossing lights does not just indicate when one can safely cross the road, but suggests that activities such as meditation or hugging a stranger next to you as well as unicorns are rightful participants of the traffic.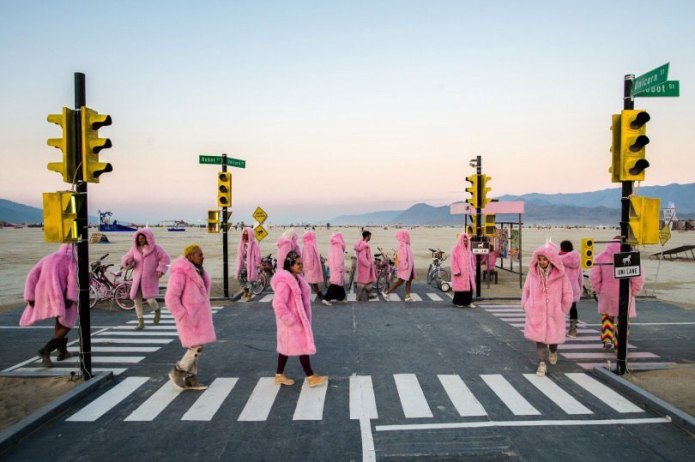 Why are we bringing 'The Intersection X'? (*A story of our last years' fail) 
We have already brought 'The Intersection' to the Playa in 2018. Its story is glorious, funny and cautionary. We have been producing the artwork in Russia for a few months, then packed in a container and shipped by sea to California 2,5 months before the Burn. Due to the fact that we shipped it a little later, then we have originally planed, and a couple of unfortunate events that have been out of our control, two weeks before the on-playa construction was supposed to start we realised that our Intersection won't make it to the US on time…
We faced a very difficult decision: should we just move the set up of our art to the next year or should we try and remake everything once again in the remaining couple of weeks? We chose the second option. We initiated an internal crowdfunding campaign and collected the needed $12000 among our campmates. We rebuilt everything we have been working for months in Moscow in the US in a couple of weeks. And we managed to bring 'The Intersection' to the Burn last year. It was very hard but very satisfying. Unfortunately, some things didn't work as they were supposed to, for instance, our awesome traffic lights gifs didn't play on the screens, instead the traffic lights showed just random stripes.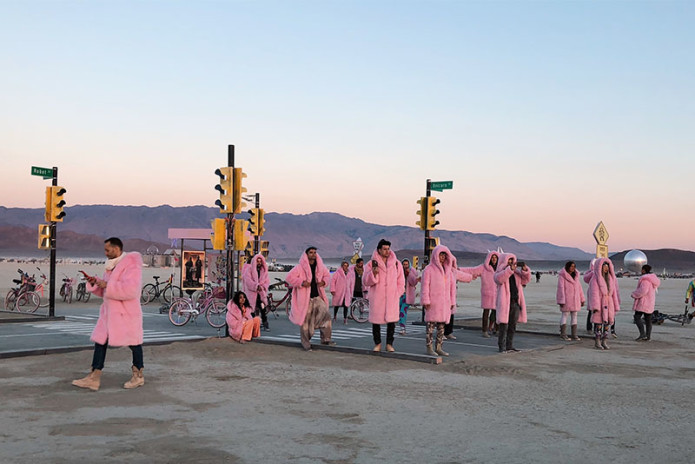 The original Intersection arrived to Los Angeles in a sea container in the last days of August 2018. We questioned ourselves 'what shall we do with it?'. Of course we don't want to just trow it away, and we also want to show off our wonderful traffic lights gifs and other nice things that didn't work as planned on the rushed Intersection 2018. So we decided we will use it for our 2019 art project, and thats how 'The Intersection X' has started.
What will be new in 2019 version?
According to this year's theme we decided that The Intersection should be metamorphosed. And thats what you'll see changed in this years version of it compared to last year: on place of one of the light posts appeared a large tree. If you look closer, you'll see that the trunk resembles the lanterns, the trees' fruits look familiar too, they took after the traffic lights. Part of the asphalt surface turned into a green carpet of grass and little fluorescent mushrooms can be found hiding under the tree. Some giant creature made a nest on top of the bus stop.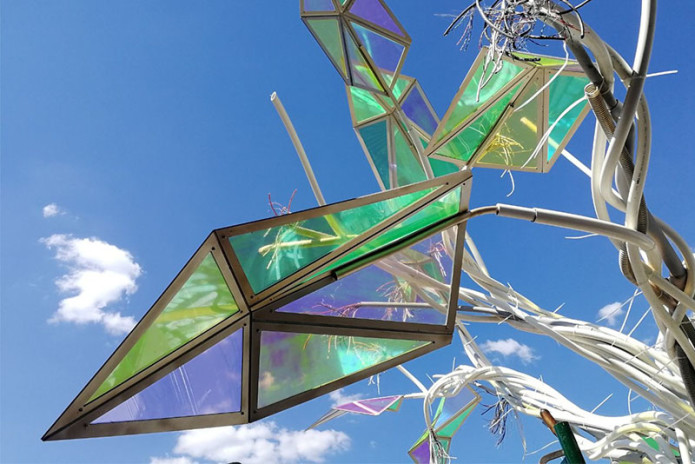 Is it interactive?
Like we did last year, we want to make 'The Intersection X' a place of attraction for burners' activities, the bus stop – a meeting point, and the lineups schedule will help to plan the day. On the intersection, burners will be able to send mail or post an ad about interesting activities in their camps (last year our unicorn family was lucky to witness a beautiful wedding on our intersection, and it was one of the most memorable moments of the burn for many of us). We will also invite music, food and art projects to be guests on our intersection. 

Who we are?
We are Invisible Pink Unicorns camp. BM 2019 is going to be our 3rd burn as a camp (some of us have been attending Burning Man before, with different camps). In 2018 we brought to the playa our first version of The Intersection art. In 2017 we created a cycling workout class in deep playa.  
We are also famous for running around the playa in our fluffiest faux fur coats, group-hugging random strangers. We meet on the intersection every other sunrise to do this, and everyone is welcome to join.  
You can follow us on Instagram & Facebook
Why do we need your support?
'The Intersection X' is a Honoraria project, meaning that we received a grant from Burning Man, which covers about a half of our expenses, needed to bring the 'basic' version of the artwork to the burn. The other half we contribute ourselves as a camp. This basic version includes the tree, the bus-stop, lanterns, posts, traffic-lights, road signs and asphalt. And of course one of the biggest parts of our budget goes towards the logistics of the tree from Russia to USA. But we have many ideas what else we can add to 'The Intersection X' to make it even more interesting. Little fluorescent mushrooms hiding underneath the tree. A climbable nest on top of a bus-stop. A few kid road signs growing under the big one. More lights for the night. And many other nice things. Each of your contributions will go towards making our artwork more detailed and attractive.  
At this moment we have already finished the production of the tree. You can see first pictures below: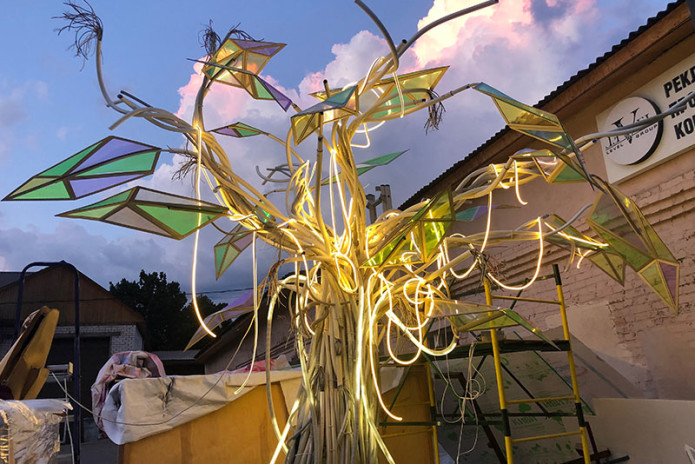 What will you get from this?
By contributing to our project you will:
1. Make the world more playful, funny and interesting place.
2. Support the '10 principles', help bring them further and help implement them into the world beyond Burning Man. (If you are not familiar with the 10 principles, please check 'burningman.org')
3. Become a co-creator of the art piece and support independent art that rely only on its creators and supporters, not brands and companies.
4. Become a part of our pink unicorn family.
5. Get our amazing perks!