It's often said "Productivity is what productivity does!" – and rightly so. That's why more people are turning to technology to harness all the productivity advantage they can get…so they can do more. But, the primary (and some would justifiably argue – THE ONLY!) task of any productivity tool is to make productivity happen. Instead, most people while away many a potentially productive hour managing multiple productivity tools instead of getting things done. If you aspire to change that with an all-in-one daily planner app…then you've come to the right place!
The Aspire Difference
Our lives are filled with different aspects of living daily. There's work, school, family, social interactions, business, financial commitments, health, and wellness. And for every facet of our lives, we have productivity opportunities begging to be addressed. For example:
–  You get a phone call from your dentist discussing what they found in your last x-rays. A couple of fillings, some bridge-work and your regular cleaning. You feverishly take notes in your favorite Note App, and capture the date and time of your next dental visit
What happens next is your worst nightmare. In your hurry to get to your child's Teacher-Parent meeting, you forget to transfer those notes into your calendar. And then, the inevitable happens…and you miss your all-important dental session!
Without an integrated digital planner app to support you, the "inevitable" happens in almost every facet of your life:
–  Because it didn't appear on your To-Do List, you forget to pay an important bill…and had to spend several hours restoring a suspended home internet connection
–  Your meal planning went off the rails because you didn't keep track of your dietary milestones
–  You missed Yoga for two consecutive weeks…because your Fitness Log App was not in sync with your real-world appointments and schedule
The challenge with getting more done, on time, every time, is that we rely on too many programs, apps, and websites to help keep us organized. And there lies the greatest productivity challenge! If only you had a single, integrated and seamless daily planner app, then life would be less complicated, better organized, and more productive. And that's the Aspire Productivity difference!
The One-window Productivity Booster
Whether it's keeping tabs of your digital Journal, organizing your daily Reminders, optimizing your To-Do List, or managing your Schedulers to maximize your productive time, the Aspire Productivity App is a one-window productivity tool that does it all. This "written from ground up" digital planner app has it all in one place.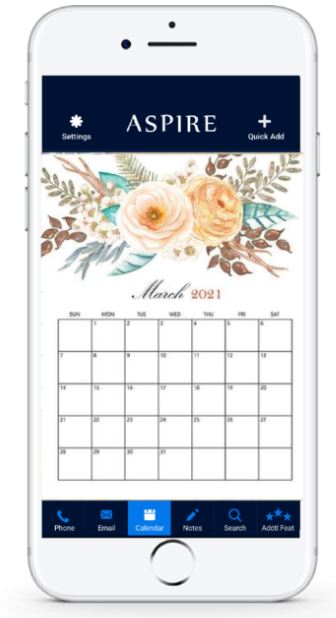 Instead of using multiple apps – one for To Do's, another for Scheduling, One to take Notes, another to manage your Fitness Log…you'll just use a single app that does it all. How does that help boost productivity? Well, no more will you have to launch multiple apps, do your "thing" in each, and then remember to update other apps to reflect what you've done in the previous one! It all happens seamlessly – like your Notes or Journal entries automatically becoming part of your Calendar.
The result: You'll spend more time doing stuff and less time managing the apps that help you do that stuff. And isn't that what productivity boosting is all about?