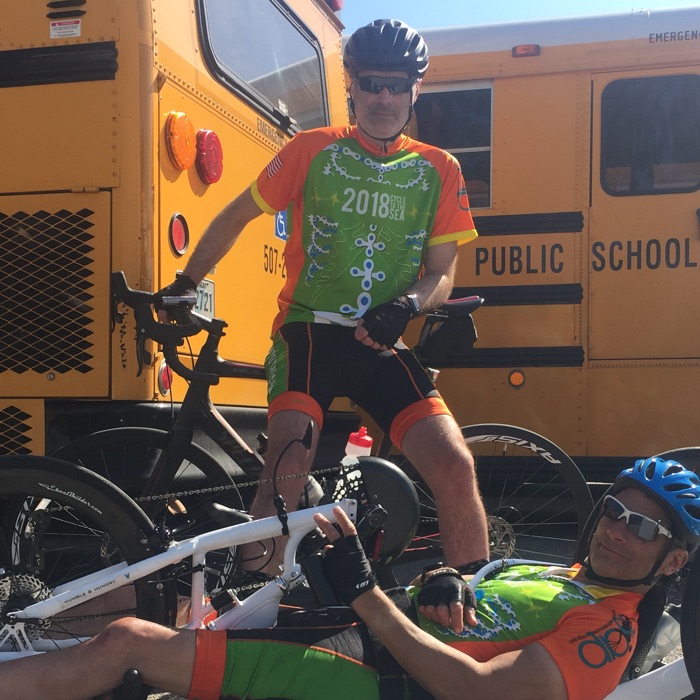 I'm Thomas Baskind, and I wanted to share an uplifting and inspirational story that supports a great cause.
I was sitting in my office in NYC on Friday, March 25th, 2011 when my phone rang. It was Carol, the wife of my friend Brian – who lives in Charlotte NC. Something was wrong with Brian. From his initial symptoms- they thought he was having a heart attack He had been taken to the hospital and now can't move. There was no clear answer as to why. Brian was in his early 50's and was in perfect health (he had even run several marathons). None of this made any sense. All I knew was it was serious- and I couldn't help if I stayed in NYC.
After hanging up the phone- I got up from my desk and went straight to the airport. No luggage. No ticket. I didn't even let Carol know I was coming. Upon arrival at the hospital, I ran into Carol in a hallway- clearly distraught, and now very surprised to be seeing me in person. There was still not a clear diagnosis. Brian remained unable to move. This still wasn't making any sense. How does the healthiest, most active person I know go from being perfectly ok – to being paralyzed literally out of the blue?
The answer, we came to learn- was that Brian had a spinal stroke. Completely unforeseeable and unpreventable. I had never heard of such a thing. The doctor said it was just one of those "freak" things that happen.
Brian improved slightly and was able to move his arms and hands- however, he remained paralyzed from the chest down. His immediate reaction was to commit himself to not letting his condition slow him down. Little did I realize how much he would achieve (not only for himself- but for many others, including myself) in that process.
Brian dedicated himself to his rehabilitation at Atrium Health Carolinas Rehabilitation and adjusting to new ways of doing things. In one of our conversations, he mentioned there was a cycling event to raise funds for ASAP – the Adaptive Sports & Adventures Program he was involved with.
180 miles over three days. Charlotte NC to Myrtle Beach SC. I had never ridden a bike that far- let alone could I wrap my head around how he could manage to do so (?) I told him to give it a try- and if he wanted, I would do it with him the following year. Thus began Brian's "Team Freak" group of supporters who ride with him to raise funds for ASAP.
I have worked very hard to keep up with Brian ever since! 🙂 He is so active and such an inspiration, it is not accurate to describe him as "disabled". There is nothing he is unable to do, and in fact, does more than most people I know. Please help and make a donation today.