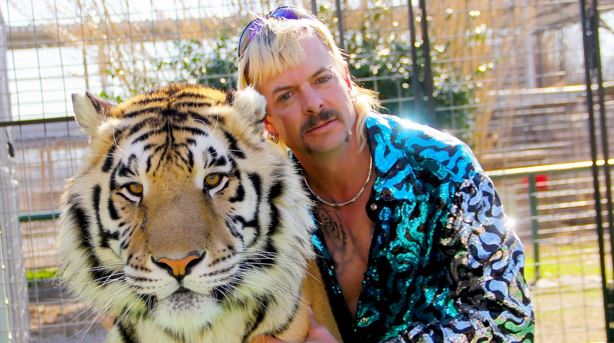 Netflix's new series Tiger King: Execution, Mayhem and Madness delivers exactly what's promised in the title. If you haven't binged the whole series yet, then you're probably living under a rock. In its first ten days since being released, Tiger King was watched by an estimated 34.3 million people, ranking as one of Netflix's most successful releases to date. From Joe's run for presidency (nothing feels off the table these days) to the "disappearance" of Carole Baskin's husband, there's no shortage of absolute mayhem on the show. And then there's the Tiger King costumes that came out of it, which are plenty.
The wildness of Tiger King hasn't stopped. Netflix just released a reunion special, where Rick revealed that Joe is actually scared to death of lions and tigers. Director Rebecca Chaiklin also hinted at the possibility of a second season, telling Entertainment Weekly the following: "We're not sure yet, but there could be a follow-up on this story because there's a lot that's still unfolding in it and it'll be just as dramatic and just as colorful as what has unfolded these past few years." If you can't wait until the release of a second season, Wondery's second iteration of his Over My Dead Body podcast is titled Joe Exotic: Tiger King. The podcast is written, narrated and reported by Robert Moor, who has apparently been working on the podcast for years.
If you binged watched all 7 episodes in a single day like the rest of us, you'll know that the theatrics of Tiger King make for a perfect Halloween costume. Whether you're going solo or as a group, we have an extensive collection of costumes to suit your needs. Better still, we've made life easier for you by curating a selection of costumes and accessories to channel your inner tiger king.
Arguably the most fascinating aspect of the show, (aside from the attempt at Execution, the disappearance and wild animals in Oklahoma) is Joe's costume throughout the show and haircut. I'm not sure what kinds of barbers you can find in Wynnewood, but it's criminal. If you want a Tiger King Costume without doing irreparable damage to your hair, check out some of our wigs. Our '80's Blonde Rock Mullet', 'Mississippi Brown Wig & Moustache' and 'Sunglasses with Brown Mullet' all offer a hairdo similar to Joe's. And if you (understandably) don't want to grow out his facial hair, the 'Mississippi Brown Wig & Moustache' actually includes the moustache! Just trim the wig a little so it looks more like Joe's hair. We know you all practiced cutting hair during quarantine.
Although you could definitely try to find a colourful shirt to recreate Joe's look, an up-to-date outfit would be a prisoner's costume. Joe is reportedly overjoyed at his new found fame, but it looks like the zoo-keeper will spending the rest of his life behind bars. You have to enjoy the irony. Our 'Prisoner Costume' and 'Psycho Ward Mens Costume' both include an unmistakable prisoner jumpsuit. Paired with a mullet, everyone will undoubtedly recognize your costume at your next Halloween party.
The only character who could rival Joe Exotic's memorability is none other than Carole Baskin. To get her look, you'll definitely need a blonde wig. Our 'Sultry Honey Blonde Wig' or even the 'Caribbean Pirate Wench Wig' are both good picks to emulate her hair. As for her outfits, you can wear our 'Monster Bride Adult Costume', since, let's face it, we all know she did it.
If you're planning on organizing a group costume, then it wouldn't be complete without your tigers. Tigers are surprisingly cheap to purchase – a captive-born tiger costs between $900- $2500 US. There's little legislation prohibiting it in some provinces and states, so you might get away with it in Ontario, North Carolina, Alabama, Delaware, Nevada, Oklahoma, South Carolina, West Virginia, and Wisconsin. Tempting as it may be, we at Oya Costumes think it's better to opt for a costume. Our 'Taylor the Tiger Child Funsie' is a fun and comfortable tiger onesie costume. If you're going for a attractive look, the 'Tiger Temptress Costume', with its tiger-print catsuit and matching accessories, will also do the trick. Don't forget to include your pet in this excursion with our 'Lion King Of The Jungle Dog Costume'!
Just when you thought you had run out of things to do during quarantine, Netflix releases one of its wildest shows ever. The series would make a funny and original costume idea. With prices you can financially recover from, we have all of the costumes and accessories you'll need. Don't forget to take pictures and send them to us. We look forward to seeing what wild things you'll come up with!