Apple CEO Tim Cook is heading to Birmingham, Alabama on Thursday to announce an educational initiative with Mayor Randall Woodfin.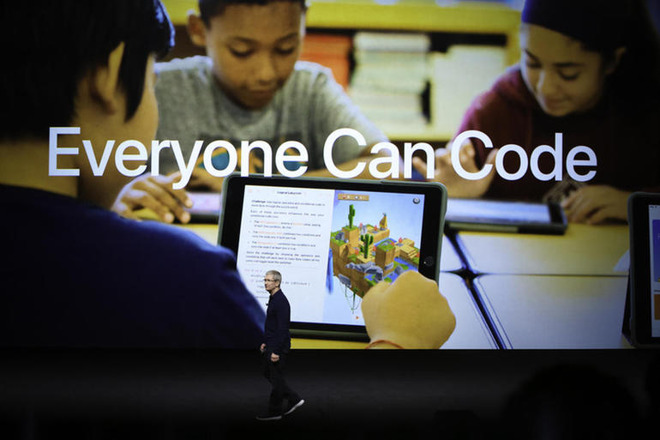 Tim Cook announcing "Everyone Can Code" in 2016
It isn't yet clear what specifically is being announced on Thursday by the Mayor and Cook. In all likelihood, it will be an extension of Apple's Everyone Can Code initiative coupled with a large hardware purchase.
Apple's Everyone Can Code was launched in 2016 as a comprehensive training program for Apple's Swift language. In November 2018, Apple said that there were more than 5,000 schools, community colleges, and technical colleges worldwide using the materials.
App Development with Swift is intended to provide students critical skills they need for high-demand and high-skill jobs, according to Apple. Apple has also released a free AP Computer Science Principles course syllabus and curriculum, allowing high school students the ability to earn Advanced Placement credit for learning App Development with Swift.
Students are also able to earn a certification for their Swift studies, with the App Development with Swift Level 1 certification exams offered through Certified Authorized Testing Centers.
Apple's redesigned Everyone Can Code programs are built for a wide age range of kids, and now includes preschoolers who can learn fundamentals in new appropriate Coding Labs. Additionally, Apple has brought the "Helpsters," a "Sesame Street" spinoff to Apple TV+. "Helpsters" teaches preschool and kindergarten-aged kids code syntax and the basic principles of programming.
The announcement is not open to the public, according to WBRC.