As in many jurisdictions across the USA, real estate is seeing a resurgence in Hawaii's Oahu. Not only is there major volume activity, but the price of homes and condos for sale in Oahu have also been on an upward track – reaching historic proportions. While this might seem like a time to hold back from investing in the market, all factors indicate that this is, in fact, a great opportunity to buy. And a root cause analysis confirms that.
Root Cause Assessment: A must for investment
So, what are the factors behind the allure of Oahu condos for sale? Why is it that we're seeing such a perfect storm in Hawaii's real estate island paradise? Well, when doing a deep dive into the root causes for the ongoing boom, it depends on what one's perspective is, and how you approach your analysis. However, most market analysts attribute it to these factors:
a) A gradual opening-up of the economy
As like most other jurisdictions, uncertainty during the pandemic caused prospective Oahu condo buyers to stay on the sidelines.  Now, with fewer restrictions and more vaccinated population, most sectors of the economy are re-opening. As a result, previously sidelined buyers are now back in the market, and hunting for bargains. Multiple bids for a hotly contested property drive up prices.
b) Gradually declining inventory of condos for sale in Oahu
As an increasing number of buyers snap-up available inventory, there'll be fewer properties to go around. More people are moving quickly now, and trying to buy their dream condo – either as an investment or as a hope to move into. The laws of demand and supply kicks in: Declining inventory = higher prices. 
c) Ultra-low mortgage rates
Recent ultra-low mortgage rates mean more prospective home buyers are taking that final leap into the ranks of home buyers. This, too, is fueling a flurry of buying activity based on pent-up demand.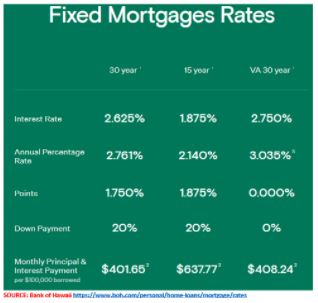 More urgently though, is the realization that interest rates may be on the march up, prompting many hereto undecided buyers to get off the fence. 
d) Relaxation in mainland corporate work policies, allowing workers to work from wherever they choose 
As more companies allow their workers to work from home, the demand for Oahu condos for sale is increasing. More workers now feel they need more space to work and live in the same premises, and are therefore "trading up" for larger condos and single-family homes. Over the past several months, Oahu home prices have been at the historic $1-million-plus mark, while median condo prices are flirting in the $500K range. Clearly, this is a recipe for a healthy bounce back for the real estate market. 
It All Adds-up
These four factors are the major cause for a healthy correction in the number and prices of condos for sale in Oahu. A highly competitive marketplace, historically low inventory, coupled with an unprecedented surge in demand, have all teamed together to make it the ideal time to consider investment in the Oahu real estate market. From here on, prices and demand are likely to only go one way – upwards!